Support
Our Team supports Miss Rose in her quest to provide beautiful hair to those dealing with hair loss due to cancer and other medical conditions.
Miss Rose's Mission...
Is to support and enhance the physical and emotional well-being of those surviving cancer by providing products like wigs and hair pieces, services like wig TLC, consultations and custom work, support and hugs.
Miss Rose's Vision...
Is for every person, who walks through her door, to feel safe and comfortable and know that she is there to help them look their best.
Miss Rose's Values...
Are being committed to conducting herself with integrity, compassion and respect, working in harmony with the greater community to fulfill her vision and mission.

Miss Rose is also committed to mentoring stylists in the hair arts so there are professionals ready to support and carry on her legacy.

Services
We are a full service salon and wig shop located in Langley, B.C, where the brightest and the best come to set up their business. As well as common services such as cuts, colours, and perms, we provide wig consultations to help our clients find the best wig or hairpiece to suit their needs. For our wig consultations we have a private room and a variety of high quality synthetic wigs (lace front, full mono and mono-top) for you to try on and get a feel for what style is your perfect match. We carry short hair wigs, medium hair wigs, and long hair wigs, as well as a variety of different colours. We also do custom work such as bangs from your own hair as well as hair pieces to incorporate into your own hair. Miss Rose provides many services for you and your wig, from finding a new one, shampooing and setting your old one, and much more. To learn more about our products and services, click
here
.

---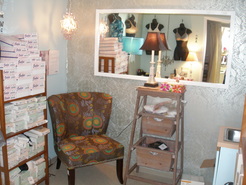 We are pleased to welcome " Mastectomy to You Because We Care" into our family of caring professionals. Mastectomy Fitting To You is British Columbia's #1 Mobile Mastectomy Company. Now they have a fitting room here inside The House of Miss Rose.
They offer
Private in-home mastectomy fittings
Private fittings at the office
Certified mastectomy fitters
No charge for the visit or professional fitting
Insurance coverage
BC Pharma Care cover if you have reached your deductible.
http://www.mastectomyfittings.com/
Create
We collect hair donations here at our salon to help children, teens and adults who are experiencing hair loss from cancer and other medical conditions by creating custom hair pieces and wigs.

We are able to accept all types of hair 8(eight) inches and longer.
Just include a hair history with the donation.
Whether it is permed or bleached, colored, grey, white, virgin or dreads we can use it all!
Any texture, any condition, any length over 8 (eight) inches.

The hair that is not useable for medical wigs can be sold to a variety of companies for use in the agricultural, entertainment, industrial and cosmetics industries. We use these funds to purchase equipment and supplies necessary to complete the construction of the human hair wigs, hairbands etc... and to help subsidize hair prosthesis for those in financial need who require a them.

We also accept donations to help support this goal.

If you already have a wig, whether it be lace front, mono, mono top, or human hair, Miss Rose can make adjustments for you to better make it the best wig for you. We can add length, shorten, change the style, take out of the frizz, add highlights, and so much more to personalize your wig or hair piece.

Financial information regarding wigs:
If your treatment for cancer will cause hair loss, you can ask your Oncologist or family physician to write a "prescription" for a wig. This "prescription" verifies that the need for a wig arises from medical circumstyances and some extended health plans may fund the cost. To determine whether the wig is covered, please check with your extended care plan prior to purchase.
The Medical Services Plan of B.C. including Fair Pharmacare, do NOT REIMBURSE WIG COSTS.
Further financial consideration for medical expenses, including wigs may be available when filing your income tax return. Contact your local tax office for details.
---